Replenishment Planner Europe
VERVULD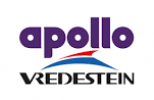 Vacancy Replenishment Planner Europe
For Apollo Vredestein B.V. we are exclusively recruiting for a Replenishment Planner Europe.

Apollo Vredestein B.V. (AVBV) is the European subsidiary of Apollo Tyres Ltd. Apollo Vredestein develops, produces and sells first-class tyres. With different locations in Europe and USA, AVBV sells over 7 million tyres per year and has over € 500 million revenue. Its head office is located in Amsterdam.

Apollo is known for ongoing innovation, short communication lines and an informal and open culture. Working at Apollo Vredestein BV means autonomy, versatility and multidisciplinary cooperation. Passion, drive, creativity and daring are important competences for (potential) employees!

The role:
As a Replenishment Planner you are working in the team of Central Supply Chain Management Europe, based in Amsterdam. In the role of Replenishment Planner you are responsible for the planning and replenishment of stocks to 12 international "local" warehouses. As a central point of contact for these countries, you will generate inventory targets and analyze and act on replenishment requirements. You contribute to Apollo Vredestein's transformation to a functional and demand driven supply chain company. This position requires cooperation with Logistics, the Sales organization and the Supply and Demand Planning teams.
Your responsibilities are:
You plan the monthly stock targets for the local warehouses.
You analyze and act on any requirements from the commercial organization, by connecting demand and replenishment/sales orders to available supplies.
You will be the point of contact for the Local and Regional Warehouses across Europe.
In this role you report to the Regional Demand Planner.
We are looking for:
An ambitious and eager professional. You have very good communication skills and a flexible attitude.

Furthermore you have:
A Bachelor/Master degree in Supply Chain, Business Administration, Engineering.
1-2 years' experience with supply chain planning.
Excellent Microsoft Excel skills.
Excellent analytical skills.
Strong written and verbal skills in English. Other languages are a plus.
Apollo Vredestein offers you:
A new position within an innovate, international and multicultural organization.

Furthermore:
Directly employed by Apollo Vredestein B.V.
Maximum salary between € 40.000 and € 53.000 (incl. 13th month pay).
Multiple career opportunities and possibilities for personal development and growth.
About Logisch:
Logisch is specialized in recruiting and selecting bachelor and master professionals in the disciplines of Supply Chain, Logistics and Operations. We mediate in both permanent and temporarily opportunities in The Netherlands.

If you have got any questions about this position, organization or procedure, please do not hesitate to contact Jessy van Dorsser, Recruitment Consultant, via j.dorsser@logischwerving.nl / 06-17393203.

Opdrachtgever
Apollo Vredestein B.V.
Publicatiedatum
02.03.2019
Publicatie eindigt
30.11.-1
Recruitment Consultant
Jessy van Dorsser
M: (06) 1739 3203
Medewerkers
Meer details
Match criteria
Bezoekers van deze pagina bekeken ook deze vacatures: